Saraswati
29 Dec 2012
Saraswati is a text-mode EPUB reader for Linux. It is fast, small and easy to use, with the following features:
Supports EPUB format, and will render embedded HTML to plain text (with basic formatting).

Full-text search.

Automatic bookmarking: a history of opened files and associated cursor positions is kept. Open a previously read file, and the cursor will skip to the last known position.

Stable text reflow: when the terminal width changes, the text will be reflowed while the cursor remains in the same logical position in the book.
It doesn't maintain an explicit book library, nor does it require any configuration before use.
Building and installation
The source is hosted on github, and you can clone the repository with:
git clone git://github.com/dlbeer/saraswati.git
To build this package, you will need the Mono C# compiler and the libncursesw (including header files).
To build and install, type make, followed by make install.
Type saraswati to run, optionally specifying a file to open on the command-line. Help text will be displayed if no file is specified.
Screen-shots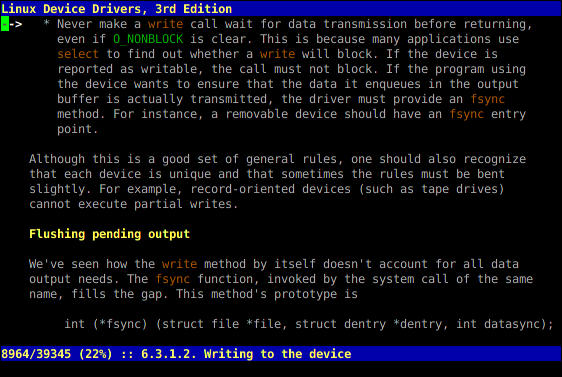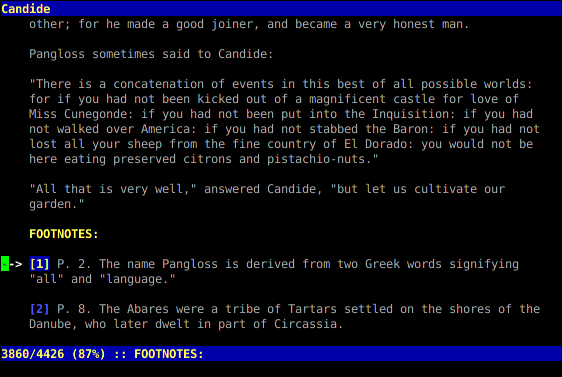 Copyright
Copyright (C) 2012 Daniel Beer dlbeer@gmail.com
Permission to use, copy, modify, and/or distribute this software for any purpose with or without fee is hereby granted, provided that the above copyright notice and this permission notice appear in all copies.
THE SOFTWARE IS PROVIDED "AS IS" AND THE AUTHOR DISCLAIMS ALL WARRANTIES WITH REGARD TO THIS SOFTWARE INCLUDING ALL IMPLIED WARRANTIES OF MERCHANTABILITY AND FITNESS. IN NO EVENT SHALL THE AUTHOR BE LIABLE FOR ANY SPECIAL, DIRECT, INDIRECT, OR CONSEQUENTIAL DAMAGES OR ANY DAMAGES WHATSOEVER RESULTING FROM LOSS OF USE, DATA OR PROFITS, WHETHER IN AN ACTION OF CONTRACT, NEGLIGENCE OR OTHER TORTIOUS ACTION, ARISING OUT OF OR IN CONNECTION WITH THE USE OR PERFORMANCE OF THIS SOFTWARE.